In Florida, Community Associations are created and controlled by governing documents which are made up of the Declaration, Articles of Incorporations, Bylaws, and Rules and Regulations. Many of our clients always ask us which of these documents have a higher precedence over the other and when there are inconsistencies and problems that arise, what document controls?
As such, we have created the below pyramid which illustrates the hierarchy between governing documents in Florida Community Associations. Always remember that whenever any of the Community Association documents conflict with Florida Law, unless the law states otherwise, Florida Law always prevails.
The Law Office of Ryan S. Shipp, PLLC and its team of Florida Community Association Attorneys are here to assist with all of your Florida Condominium and HOA needs. Call us today @ 561.699.0399 to see how we can assist. We are located in Lantana, Florida. We serve all 67 Counties representing homeowners against their Association(s) throughout the great State of Florida.
***Florida's Top 10 Most Common Community Association Problems***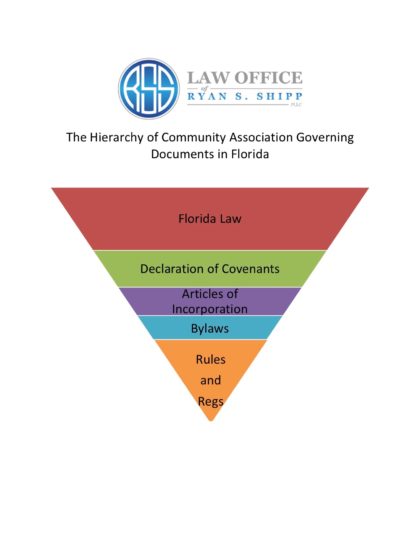 You may be interested in seeing some of our other legal posts on Florida Community Associations. For your convenience, please see links below.
Community Association Legal Blog Links
Florida's Top 10 Most Common Community Association Problems
What Official Records Can My HOA Prevent Access To?
The Hierarchy of Community Association Governing Documents in Florida,
Can a Tenant inspect the official records of a Florida Condominium Association?
As a Unit Owner how can I inspect the official records of my Condominium Association in Florida,
Florida Association Gun Control,
Florida Condominium Hurricane Preparedness and Association Emergency Powers,
Can a Florida Condominium Association Access any unit in the Association,
Florida Condominium Association Rules and Regulations,
Can a Florida Condominium Association take a Unit Owner's Rental Income,
Florida Condominium Governing Documents,
Florida Condominium Delinquency,
West Palm Beach Homeowners Lawyers,
Lake Worth Homeowners Lawyers,
Google+