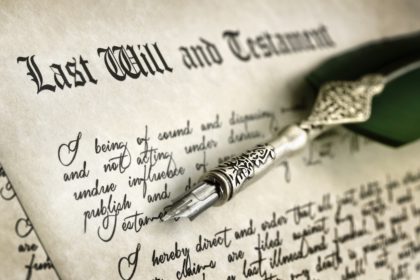 Why is a Florida Last Will and Testament important? Estate Planning is crucial for all individuals to determine their wishes and desires during end-of-life procedures.
As Florida has the highest population of senior citizens, it is important to realize the significance of having Estate Planning documents for these elderly citizens as well as the entire adult population of Florida.
Depending on the client's needs, Estate Planning documents may include a Last Will and Testament.  A Florida Last Will and Testament states the intentions and desires of an individual's final wishes.  More specifically, the Florida Last Will and Testament indicates the distribution of assets and appoints a personal representative of the Florida estate.  If you do not have a Florida Last Will and Testament, the laws of the State of Florida will decide the distribution for you and decide who administers the estate.  Many individuals prefer to make these decisions as there can be a family history of discontent.  An individual specifically lists the assets and to whom each asset will be given.
Almost all property can be disposed of by a Florida Last Will and Testament; however, there are some assets/property that will be distributed outside the will including, but not limited to, life insurance policies, homestead property, a life estate property or any other property which would be owned by another automatically after death.
If you're an individual seeking Florida Estate Planning documents in Palm Beach County or you need assistance with a Florida Last Will and Testament, call your West Palm Beach Wills, Trusts and Estates Attorneys today at The Law Office of Ryan S. Shipp, PLLC. Our experienced Florida Estate Planning Attorneys are here to assist with all of your Estate Planning needs. Call us today @ (561) 699-0399.
Like this Blog? Please see below links to our other Wills, Trusts & Estates Blog Posts