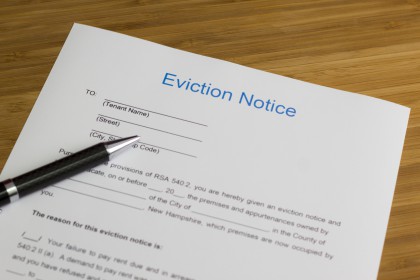 When it comes to Landlord-Tenant Law in Florida, we have has clients ask us countless times, what is a Florida 3 Day Notice? In order to have a Florida Residential Tenant removed for non-payment of rent, a proper Florida 3 Day Notice is required. Per Florida Statute 83.56(3), the Florida 3 Day Notice must contain a statement declaring the amount indebted to the Landlord, the address of the property, and a demand for payment or possession. The delivery of the written notice must be by mail, hand delivery or by posting the notice on the premises if the Tenant is not at the property. If your posting the notice yourself, our office always recommend taking a picture of the Florida 3 Day Notice.
As discussed, the Florida 3 Day Notice is the first step before the Landlord, Owner or Property Manager can proceed with filing the Florida Eviction complaint. If the notice does not contain the amount indebted to the Landlord for use and possession of the property or contain the property address, the Tenant will have a defense, but the Tenant must first comply with Florida Statute 83.60(2).
Per 83.60(2), in an action by the Landlord for possession of a dwelling unit, if the Tenant interposes a defense other than payment, including, but not limited to, the defense of a defective notice, the Tenant shall pay into the registry of the court the accrued rent as alleged in the complaint or as determined by the court and the rent that accrues during the pendency of the proceeding, when due.
If the notice is defective, the Landlord may be required to reserve/repost a valid Florida 3 Day Notice in order to proceed with the Eviction action..
Are you a Florida Landlord, Owner, or Property Manager? Do you need assistance with preparing or serving a Florida 3 Day Notice? Have you been served with a Florida 3 Day Notice? The Law Office of Ryan S. Shipp, PLLC is here to help you with all of your Landlord-Tenant and Eviction needs. Call us today @ (561) 699-0399 to set-up an appointment to visit our Lantana, Florida office location.
Google+