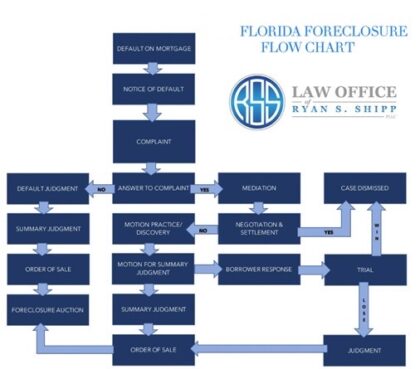 With Mortgage Foreclosures on the rise in South Florida, it is important that our Foreclosure Defense clients stay in tune and ahead of the curve by having a general understanding of how the Foreclosure legal process in Florida works. As such, our office has created the Florida Foreclosure Flow Chart.
If you, your family, or your friends are in Foreclosure, contact the West Palm Beach Foreclosure Defense Attorneys at the Law Office of Ryan S. Shipp, PLLC to discuss your options and implement a plan of attack to help stop foreclosure dead in its tracks.
Remember, whether its defending your Foreclosure action, exploring a Loan Modification, or selling your property through a Short Sale, it is always recommended that you seek legal consult. Our office is located in Lantana, Florida and we help homeowners in Palm Beach County and throughout the State of Florida. Call us today @ 561.699.0399.

Google+