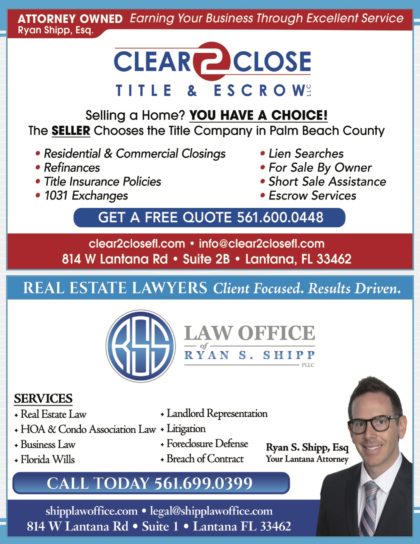 Are you in search of the #1 Real Estate Attorney in Lantana Florida? Search no further. The Law Office of Ryan S. Shipp, PLLC and its team of associate real estate attorneys have the experience and resources to assist with all of your real estate needs. From foreclosure defense to quieting title, we have you covered from A-Z.
Are you a Buyer or a Seller that needs assistance with the closing of your Palm Beach County real estate transaction? No problem! Our attorney owned title company, Clear2Close Title & Escrow, LLC, is located in Lantana, Florida and can handle both residential, commercial, refinances, quit-claim deeds, for sale by owner (F.S.B.O.), modifications of mortgages, and various other title and real estate related matters. We pride ourselves on providing our clients with the highest quality work with the lowest possible settlement fees period!
The Law Office of Ryan S. Shipp, PLLC and Clear2Close Title & Escrow are located just east of I-95 in Lantana, Florida. Visit our offices today to see how we can assist.